The characteristics of Klok liquid detergent white
Washes all white and colourfast garments radiantly clean.
High quality, washes exceptionally clean.
Washing more often with Klok prevents dirt and stains from adhering to most types of textiles.
Due to the specific composition it is also washes, at lower temperatures, the laundry radiantly clean.
Certified with the EU Ecolabel.
Certified with the Asthma Allergy Nordic label
Packaging ecological detergent white
Klok liquid detergent white for radiant white laundry, without perfume and dyes! Now available in a bottle of 1.485 liters. Suitable for approx. 27 washes. We also have a variant of this detergent for the coloured laundry.
The detergents of Klok are all certified with the European Ecolabel and the Asthma Allergy Nordic Label. This is always a guarantee that NO perfume was used in the making of the product. A fair and good product for the household that is less harmful to the environment. Would you like to know more about our liquid detergent or do you want to know the differences between powder and liquid variants? Let us know and contact customer service.
Hazard and precautionary statements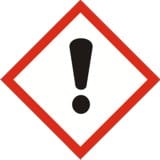 WARNING.
Causes serious eye irritation.
Keep out of the reach of children.
Wash hands thoroughly after handling.
Wear eye protection, face protection.
IF IN EYES: Rinse cautiously with water for several minutes. remove contact lenses, if possible; keep rinsing.
In case of persistent eye irritation:consult a doctor.
When collecting medical advice, keep the packaging or label at your disposal.
In case of persistent eye irritation: consult a doctor.