The characteristics of Klok ecological all-purpose-cleaner
This environmentally friendly eco cleaner does not contain perfume and dyes.
Is an effective cleaner that makes all surfaces shiny clean. For example, floors, kitchen, bathrooms, tiles, mirrors and lacquered or painted surfaces.
The special formula takes the environment into account.
Minimizes the risk of skin problems.
Correct dosage saves costs and is less harmful to the environment.
Certified with the EU Ecolabel.
Certified with the Asthma Allergy Nordic label
Dosage Klok environmentally friendly eco cleaner
When using one measuring cap you have enough for 5 liters of water. (1 measuring cap = approx. 25ml) Correct dosage saves costs and is less harmful to the environment. That is why more and more people are choosing the Klok brand and our cleaning products.
Packaging Klok all-purpose-cleaner
Klok ecological and environmentally friendly all-purpose cleaner is available in a 1 liter bottle. Also take a look at our ecological toilet cleaner. Would you like to know more about our products or do you need more information? Please contact our customer service.
If you choose Klok, you automatically opt for a better environment. Due to the unique composition of our ecological and sustainable products, they are less harmful to the environment. Consider, for example, biological components that dissolve much better in water and therefore contribute less to algae growth. More information about our cleaning products and ecological washing?
Hazard and precautionary statements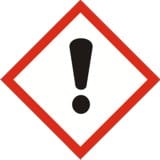 WARNING
Causes serious eye irritation.
Keep out of reach of children.
Wash hands thoroughly after handling.
IF IN EYES: Rinse cautiously with water for several minutes. Remove contact lenses, if present and easy to do. Continue rinsing.
If eye irritation persists: Get medical advice/attention.
If medical advice is needed, have product container or label at hand.